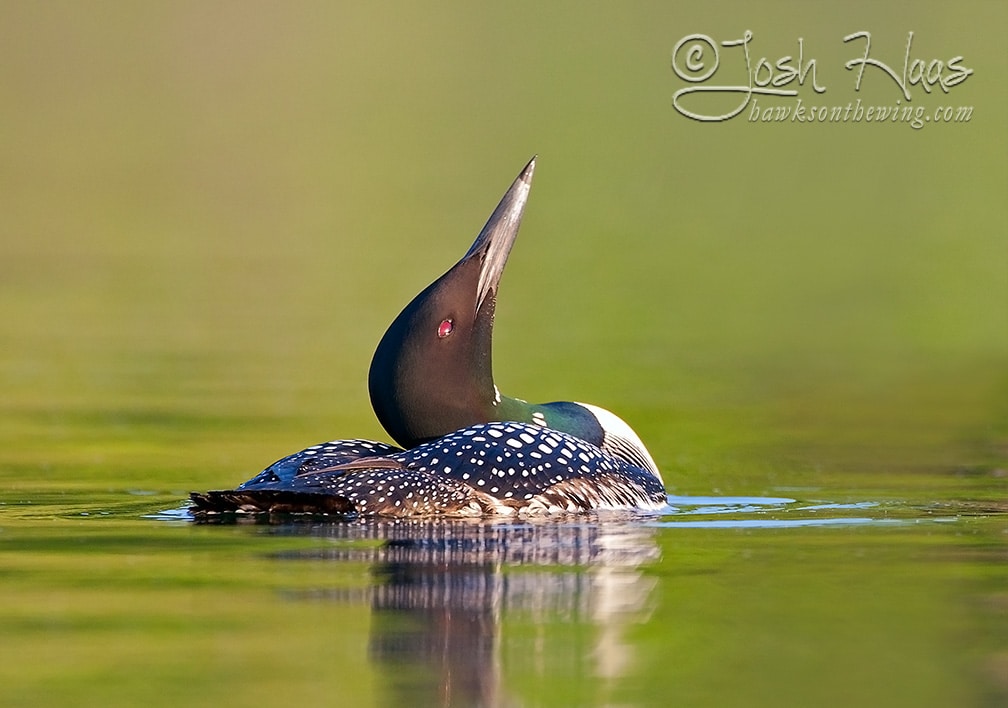 An icon of the northern Midwest, as well as the Northern reaches of North America; the Common Loon has many traits to be desired among even non-birders.  Lake owners and lovers of this beautiful species are somewhat fanatic and extremely protective of these birds.  Their echoing sounds early in the morning and late in the evening make many hearts sputter as their song reminds us of the many memories of traveling north each summer.
On a recent trip to Michigan's beautiful Upper Peninsula, I was fortunate to kayak around a family of Common Loons.  Having done this for years in our region, one wouldn't think it'd be that out of the ordinary but I couldn't help but notice the accuracy and consistency at which the adults could catch tiny minnows.  They were at or near a 100% success rate.  It seemed as if every trip down and back up to the surface, they would have a minnow to feed the tiny one riding the back of Mom.  Fish aren't slow by any means so it brought back memories of the many unsuccessful fishing trips when I was a kid.  It seemed so hard to catch fish and yet at this moment, I found myself jealous in the presence of a swimming bird that could pick them out of the water as if it was effortless.  While not the best day for minnows, it is one of their jobs within the circle.  And let's not forget that Loons can fall prey to predators themselves.

Nature never gets old.  While sometimes tough and relentless, this was a sign of nature that was all about life and the growing of a species.  The interplay between parents, the care and never-ending attention towards their offspring and the protection they give was a strong sight to take in.  With any luck, next year this once tiny fluff ball will be a vibrant adult Loon wooing the many camping families getting away from the hustle and bustle to soak in all that nature has to give.